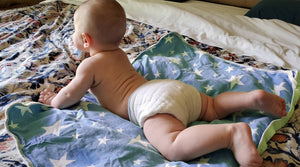 Cloth Diapering for Beginners
How to choose cloth diapers for your newborn baby: Cloth diapers 101.
What do I need to cloth diaper?
36 diapers that fit.
6 diaper covers
Cloth wipes
A baby.
It's really not as complicated as the internet makes it seem.  
Free cloth diaper washing booklet
Get your free 16 page GMD How-to Booklet complete with detailed washing information.
★★★★★

THE ONLY CLOTH DIAPERS I WILL BUY!

We have been cloth diapering for 5 years and 2 children and these are by far the best diapers around- great quality, wash well and long lasting. I also love the organic options.

Amy L.

New York
★★★★★

AMAZING
We are new to cloth diapering and used fitted for our newborn. I wish we had just utilized pre-folds from the beginning! They fit the cloth-eez wrap perfectly and it is so much easier to get them dry! I am so happy we decided to try this combo as she grew out of her newborn, I just ordered enough for full time.

Michelle B.

United States
★★★★★

THE VERY BEST DIAPERS!
After trying it ALL, these Workhorse are the superior diaper! Not only among fitted cloth diapers, not only among cloth diapers, but among ALL diapers—including disposables! While I occasionally travel with flats or prefolds for their space-saving and versatility, GMD fitted diapers perform the best of anything! Their elastic is superior, the snaps are strong, the absorbency is excellent, the price point is very affordable, and the all-cotton construction washes so easily! You rarely get blow-outs with these on newborns like disposables. They are so quick and easy to use on active toddlers. Can't say enough good this about these! Absolutely worth it!

Valerie T.

Arizona
★★★★★

SNAPLESS FITTEDS ARE THE BEST!

I've been cloth diapering for 10 years now and snapless fitteds from GMD are my absolute favorite! They're worth every penny. They're easy to use and so absorbent.

Kari K.

Indiana
★★★★★

WE ONLY USE THIRSTIES

All of our non-wool covers are Thirsties. The double gussets really make a difference and they always fit both of my kids snugly (but not too snugly). We've tried a few other brands, but they just don't fit well and leak. The size 2 fits both my 2yo and 4mo well (24lbs and 15lbs). Their AIOs and inserts are always top quality, too. I love the prints and the fact that you can get solid colors, too. All around great products!

Andrea

United States
★★★★★

GREAT CLOTH NAPKINS

We use these as cloth napkins, hankies, and general kitchen rags. They are beautiful, sturdy, and soft. I highly recommend them!

GMD is such a wonderful company. Their products are top notch and their customer service is so helpful. I'm a huge fan!

Erin F.

United States
★★★★★

THE ONLY INSERTS ILL EVER NEED

I was unsure of what size to get so i got small and large. Its worked perfectly, i layer them together which gives me a slightly more trim diaper. This has saved me a ton of laundry too, i was so used to changing every 1.5-2hr with the microfiber but quickly discovered that at 2hrs these Clotheez Inserts are only slightly damp on the business end, still feel basically dry to the touch, and are literally dry on the other 2/3. My son is only 5mo but i really only need 2 inserts for bed time as well they are so absorbant. I love that they are easy to wash, i don't need any intense wash routine. And i actually feel the slight riple, i wouldn't even call it baconing per se, actually gives me a better fit. They are so supple i feel better about all that fluff between my sons legs, my old inserts sometimes made me worry about his hips. Im a single mom of 4 and these are a game changer for me. I couldn't afford fancy 8 layer hemp inserts and the microfiber was awful and had me ready to quit.

Katie R.

New York